Most of us are on the hunt for a great skincare brand that caters to our needs and consist of the following: natural, high-quality ingredients, anti-aging, suitable for all skin types, and so on. We know it won't be cheap but as long as it's proven to be effective, it's definitely worth it!
This is why we had to share with you Dr. Barbara Sturm's highly effective skin care regime to help hydrate, regenerate, and protect your skin. The Elixir Clinic is thrilled to announce Dr. Sturm's products and facials are now available at our branches in London, Abu Dhabi, and Dubai.
‍
The Genius Behind the Brand?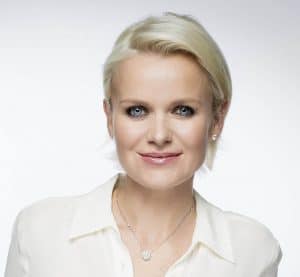 Dr. Barbara Sturm, a German aesthetics doctor, world-recognized for her anti-aging and skin rejuvenating skin treatments. Her loyal patients include A-list celebrities and royalty, that visit her Dusseldorf clinic from all over the globe to achieve youthful, healthy, and beautiful looking skin without surgery.
Dr. Sturm believes that facial skincare regimes should be easy to use but yield maximum results. Her regime focuses on skin rejuvenation, protection of skin matrix and barrier function, anti-aging & cell regeneration. She used her two decades of clinical medical experience to create this powerful yet simple skincare regime that eliminates all unnecessary products and substances, focusing instead on quality and essential anti-aging and nutritional ingredients.
Skincare Philosophy
Dr. Barbara Sturm formulated Molecular Cosmetics for those who have always wanted an uncomplicated, yet highly effective skincare regime that hydrates, protects and regenerates the skin; suitable for all skin types and includes groundbreaking formulas that use our bodies own proteins to systematically counter aging.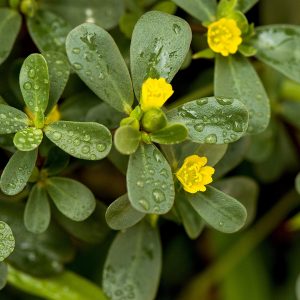 At the heart of each product is Purslane, an anti-aging and anti-inflammatory ingredient, often referred to as the "fountain of youth drug". Purslane activates the immortality enzyme telomerase in our cells and delivers anti-oxidative and anti-inflammatory effects to the skin.
Made in Germany, Dr. Barbara Sturm's collection of skincare solutions is the amalgamation of scientifically-driven aesthetic medicine and nature's reparative contributions.
Purslane is an excellent source of Vitamin-A, which is a known powerful natural antioxidant and an essential vitamin for vision.
Natural Extracts: Purslane & Skullcap
What Makes It Special: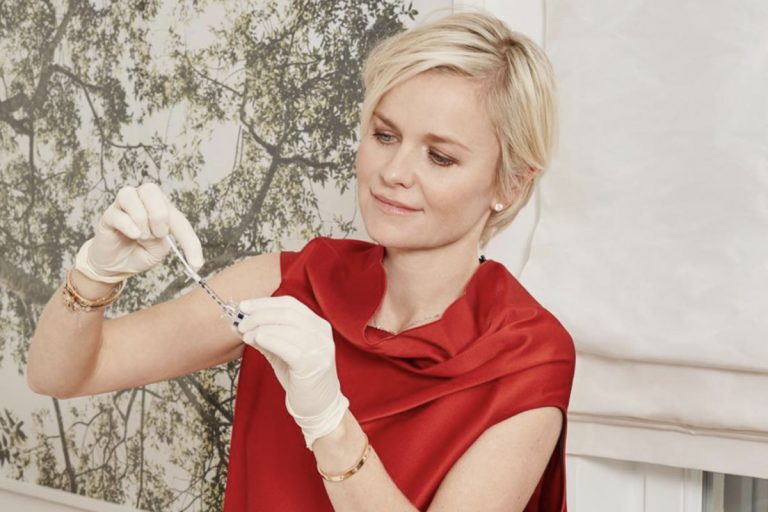 Free from synthetic fragrances, parabens and mineral oils
Suitable for all skin types
Infused with cutting-edge ingredients
Revives stressed skin and restores a youthful glow
Cruelty-free
Safe for use during pregnancy
Purslane
Contains a very high proportion of: Glutathione, Glutathione reductase, Vitamin A, E, C, Omega-3 acids, A-linolenic acid
Promotes wound healing
Protection against free radicals
Skullcap
Increases the activity of Telomerase in our fibroblasts
Increases skin elasticity and firmness
Regenerative, cell-protecting, improves skin textures
‍
Dr. Sturm's Product Pillars
Anti – Inflammation
Defined as preventing or reducing inflammation. Skincare formulas that are nurturing to skin rather than disruptive to the skin's natural function create good skin health. By including ingredients that the skin understands including bio-identical ingredients, the skin responds favorably and is able to utilize these ingredients for repair and protection.
Telomerase Activation
Purslane combined with skullcap are two European plants that have been used for centuries for their health benefits and are the key active ingredients in all products as they support and activate the telomerase at the molecular level of skin cells. This process dramatically improves the skin's function and appearance.
Hydration
Supplementing the skin with quick absorbing and potent hydration is essential to give the skin the ability to function properly and to protect itself from environmental aggressors. Skin that has superior hydration is balanced, not too dry or oily, and is free of skin concerns such as breakouts, enlarged pores, and irritations. The compounds are the subject of dozens of clinical trials worldwide.
What Is Telomerase Activation?
Telomerase activity is strong and frequent in young skin, but slows down with age leading to the appearance of wrinkles, hyper-pigmentation, loosening of the skin matrix, reduction of barrier functions, age spots, etc.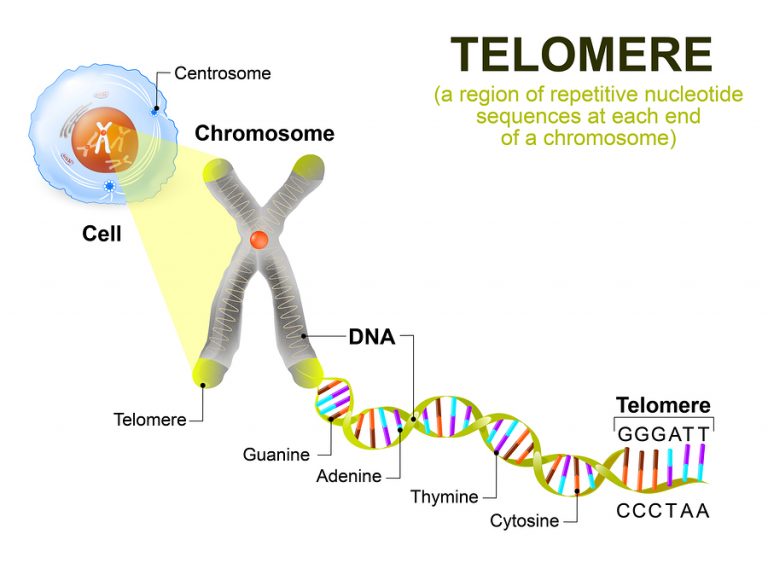 With each cell division, the protective end caps of our chromosome shorten. As we age, our telomeres naturally become shorter. When they become too short, the DNA cannot be correctly copied, which leads to cell change/ mutation/death, which affects the healthy functions of cells and tissues and accelerates aging which can lead to diseases.
Purslane and Skullcap increase Telomerase activity, leading to the rejuvenation of the skin at a cellular level. Dr. Barbara Sturm Molecular Cosmetics is the first skincare series to contain Purslane and Skullcap to activate Telomerase.
Our Favourites
Dr. Barbara Sturm Enzyme Cleanser: The Best of Both Worlds!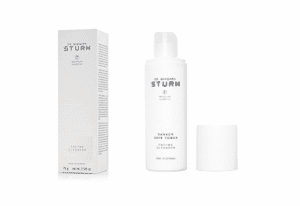 A two-in-one cleansing foam and exfoliate, particularly ideal for oily and combination skin. The fine-grained powder transforms into a soft foam once water is added, providing a deep, yet gentle cleanse and exfoliation. A collection of enzymes works together to loosen the conjunctions between dead skin cells, helping to peel away dry and rough skin, remove makeup, and reduce excess sebum from pores. The skin will appear revitalized and smooth instantly after cleansing.
Dr. Barbara Sturm Hyaluronic Serum: Our Favorite Serum!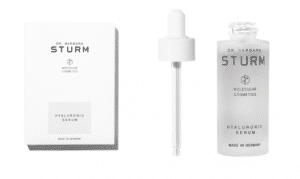 Packed full of highly concentrated long- and short-chain hyaluronic molecules that provide intensive hydration. The serum functions as a super booster against wrinkles. It has an instant effect – tangibly firmer, intensively hydrated skin that leaves you looking refreshed and radiant. The short-chain molecules are able to penetrate deeper into the skin, thus replenishing moisture reservoirs for the long term. Long-chain hyaluronic acid provides immediate intensive hydration of the surface layers of the skin to give a refreshing immediate effect.
Dr. Barbara Sturm Super Anti-aging Serum: An Anti-aging Cocktail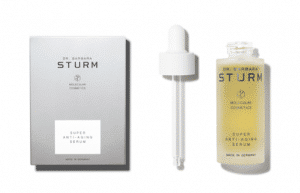 Consisting of active antioxidant and anti-inflammatory ingredients that nourish the skin while visibly reducing the depth of fine lines and wrinkles. This serum diminishes inflammation – a primary cause of aging and skin aberrations – while replacing the skin's moisture reservoirs using a high-quality complex of long- and short-chain Hyaluronic Acid. It also provides a smoother and more youthful appearance with a clearer complexion. Recommended use: regular application over several weeks for maximum benefits and results, you will notice that irregularities are reduced and that the skin is also firmer.
Dr. Barbara Sturm Sun Drops: The Perfect Sunscreen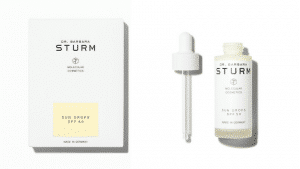 Innovative and light-textured sunscreen serum provides SPF 50 protection that slows down the development of wrinkled, prematurely aged skin, while preventing facial brown spots and skin discoloration caused by UV rays. An active complex of Cassia Extract, Vitamin E and Beta-Glucan protects the skin and promotes the regeneration of damaged cell structures. A few drops of the serum can be mixed with your face cream or applied undiluted.
Dr. Barbara Sturm Glow Drops: Ready, Set, Glow!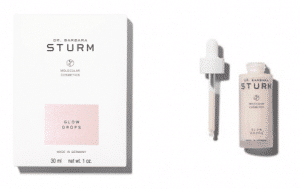 The potent anti-aging compounds in Glow Drops perfect skin quality and health by providing deep hydration, fundamental nourishment, and pore refinement; the instant glow is provided by healthy mineral pigments. The long term glow comes from ingredients like Purslane, Bistorta Root, Rosa Canina, and Sweet Almond Oil. Recommended use: apply Glow Drops as a finisher to your skin care regimen, and use as a touch up throughout the day.