Whether you are lacking motivation, need to boost your energy levels, or preparing for a fitness challenge, we've got you covered at The Elixir Clinic!
A healthy lifestyle leads to better performance, which can ultimately help you achieve your fitness goals. We offer treatment programs developed for clients who want to support muscle growth and achieve weight loss, improved athletic performance, fitness recovery, increased metabolism, or general wellbeing.
In order to achieve any of the above, your body requires the right nutrients to function efficiently and effectively. Essential nutrients such as vitamins and amino acids are ideal as they are natural and safe with 100% absorption when taken intravenously providing immediate benefits.
‍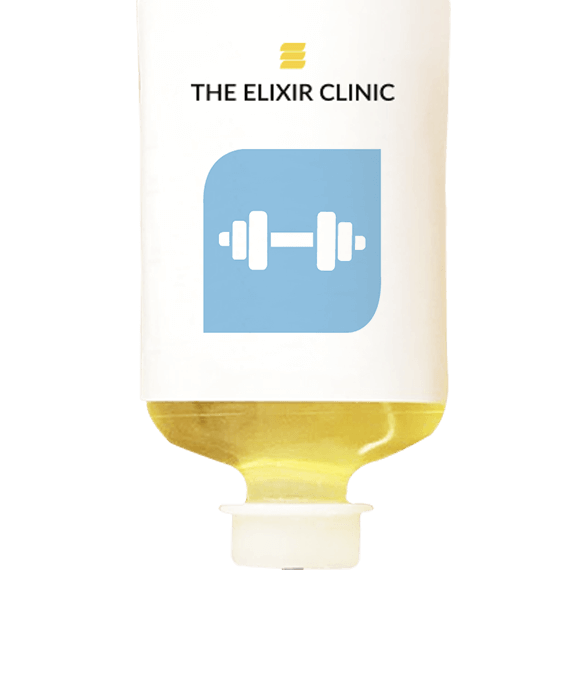 Some of the key players used in our Fitness treatment programs:
VITAMIN B12: The energy booster that helps maintain a healthy digestive system and is needed to convert carbohydrates into glucose in the body leading to energy production and a decrease in lethargy.
GLUTATHIONE: The 'Master Antioxidant' that is vital for a healthy immune system function and detoxifying the body to support liver health. It is an amino acid found in every cell of the body that is critical to preserving cellular integrity and essential for optimal health.
TAURINE: Your natural "pre-workout" that reduces fatigue symptoms and improves brain function creating a sense of alertness.
L-CARNITINE: Transports fatty acid into cells mitochondria for energy production and aids weight management by enhancing the rate at which the body uses fatty acids. This process will increase fat calories used by the body on a daily basis and therefore decreases the amount being stored in your body.
‍
Introducing 'Elixir Fitness Bundles' – fitness trial bundles with great savings created for clients who are interested in our treatment programs that are dedicated to those who work out regularly, athletes, or simply those who want to live an active & healthy lifestyle. The bundles consist of multiple Elixir treatments aimed at enhancing energy levels, fitness performance, and assisting with recovery.
The treatments include a nutrient-packed Fitness VitaDrip® combined with IV laser therapy, Oxygen bar session, IV Ozone therapy, and Booster Shots. By combining intravenous laser therapy with a VitaDrip®, you benefit from faster absorption of the nutrients due to the stimulation of circulating blood and stem cells, and can achieve more wellness benefits. Learn more about this unique treatment: Intravenous (IV) Laser Therapy
‍
Elixir Fitness Bundles
‍
Elixir Fitness Superboost
Elixir UAE: AED 2499 / Elixir UK: £510
Complimentary Mineral Tissue Heavy Metal Test
VitaDrip® with IV Laser*
Single Oxygen Bar Session**
Single Ozone Therapy Session***
Booster Shot***
(Valued at AED 4500 / £690 )
‍
Elixir Fitness Boost
Elixir UAE: AED 1150 / Elixir UK: £230
Complimentary Mineral Tissue Heavy Metal Test
VitaDrip® with IV Laser*
Fitness Booster Shot***
(Valued at AED 2350 / £300)
‍
Now, you might think, "Why should I bother with this when I take supplements, BCAAs, and pre-workout?" Well, how does 10-30% versus 100% absorption rates sound to you?
"When nutrients are injected directly into the bloodstream they by-pass the digestive system and are pushed directly into cells where they can be more effectively utilized by the body. Intravenous vitamin infusions are an effective way to increase your energy, strengthen your immune system, and promote weight loss." – Harpers Bazaar
So whether you're a dedicated athlete, fitness enthusiast, or simply on a mission to lose weight and maintain a healthy and active lifestyle, our bundles are the perfect solution with GREAT savings!
To get more information about these bundles or would like to book an appointment, contact an Elixir branch nearest to you:

* Intravenous laser therapy (single session – infrared laser colour to be determined by doctor)
** Oxygen bar can be done at the same time as VitaDrip® & IV Laser
*** Intravenous Ozone therapy & booster shot to be taken on separate days than VitaDrip®