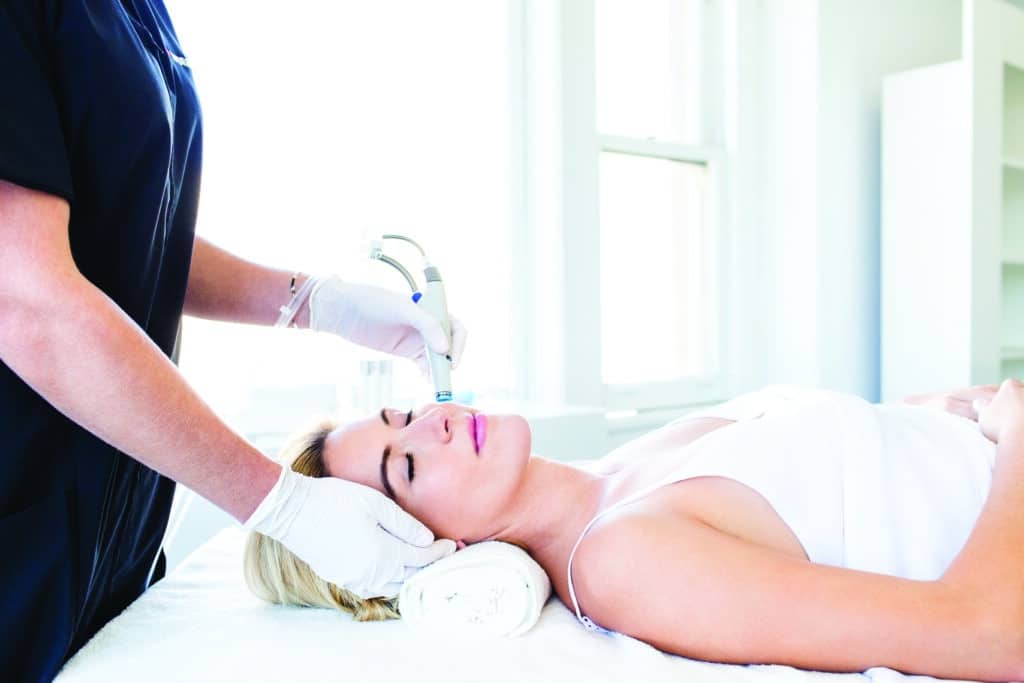 There's a good reason why HydraFacials are one of the hottest new trends in facial the beauty industry: they're incredibly effective. The mild, non-invasive treatment and minimal recovery time produce excellent outcomes. You've likely heard of HydraFacial from a celebrity, co-worker, Instagram influencers, or skincare expert. Or perhaps you realized there's a noticeable glow on your friend's face.
It is important to keep in mind that facials serve other purposes besides that of self-indulgence and relaxation during a well-deserved day at the spa. You need to understand that a facial is an effective procedure that can restore the skin texture as well as its overall health. And if you're interested in getting a facial, the HydraFacial is the treatment that sets the bar the highest.
We know that you have many questions, such as:
What is this treatment called HydraFacial?
Why is HydraFacial popular?
Should you get a HydraFacial in Dubai?
Is HydraFacial painful?
Is it suitable for sensitive skin or all skin types?
What should be the frequency of this facial treatment or just one treatment is enough to get a radiant skin tone?
What are the benefits of HydraFacial treatment?
So, let's delve into details and find answers to all your questions.
First, What is a HydraFacial Treatment?
HydraFacial uses a patented device (making it the only hydra-dermabrasion procedure) to exfoliate, cleanse, extract, and hydrate the skin all at once. The treatment has become quite prevalent in the past few years and you can get it across the world at licensed medical professional facilities.
The patented technology utilizes a swirling spinning movement to cleanse and soothe your skin while delivering moisture and removing dead skin, grime, debris, and other irritants. It eliminates dryness and the visible affects of aging, two of the most prevalent skincare issues, with minimal side effects.
How Does HydraFacial Treatment Work?
There are four phases to an average HydraFacial procedure. The full procedure usually takes around an hour. The four stages are:
Cleansing and Exfoliation
The initial step of a HydraFacial treatment is a thorough cleansing that includes the removal of excess sebum and dead skin cells. High-pressure water is used to do this by softly but effectively flushing dirt from the skin's surface.
The next step is for the specialist to use HydraFacial device, vortex cleansing, and peel tip to gently exfoliate your skin.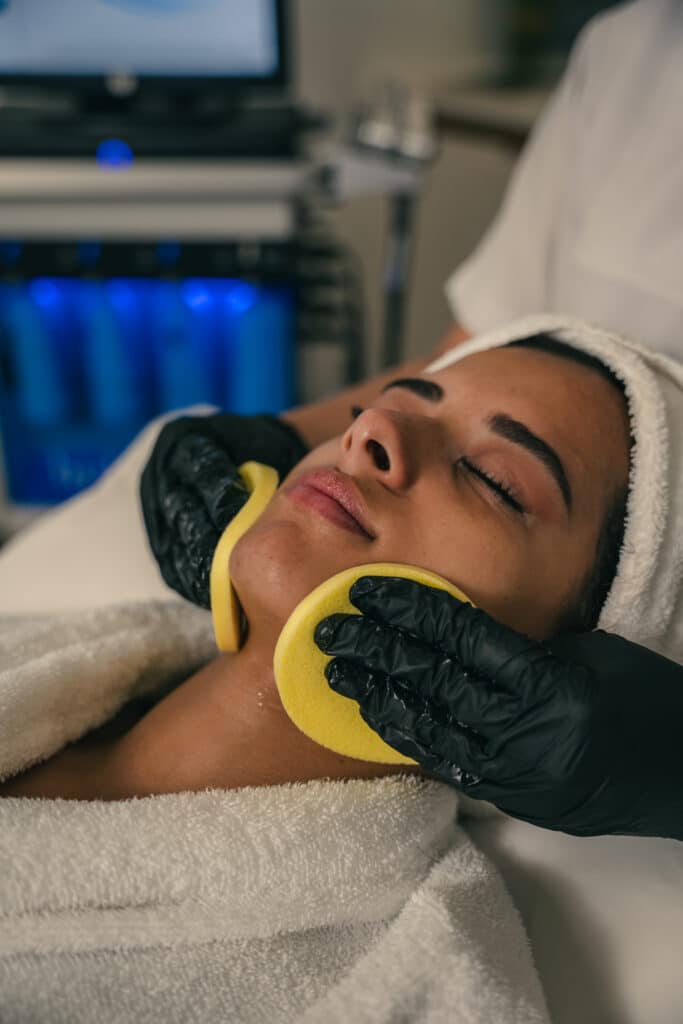 Chemical Peel
The next step is to apply a chemical peel (usually a combination of salicylic or aspirin and glycolic acids) to breakdown the oil and dirt blocking the pores.
Chemical peels used in conventional treatments can be harsh and uncomfortable, with some patients even reporting that they were left with a radish complexion as a result. HydraFacial's chemical peel is a mild one, so it doesn't hurt or irritate the skin, yet it still accomplishes its job effectively.
Extraction
In order to remove impurities like blackheads, grime, oil, and other debris, the HydraPeel Tip is used in the third step. The suction device exerts a powerful vacuum without causing any discomfort.
Hydrating Serum
In the final step, serums that do everything from hydrate to plump up to feed the skin are administered one by one. Intense moisturizers are used in conjunction with other active ingredients that are necessary for the rejuvenation of the skin.
Your skin health, type, and condition will influence the selection of ingredients. Moreover supplementary ingredients, which include antioxidants, are added to aid in the healing process.
Advantages of A HydraFacial Treatment: The Reason Behind Its Popularity
It is not observed commonly that a treatment for the skin would be everybody's favorite. However, HydraFacial has unquestionably established itself as a powerful presence.
Let's take a look at some of the reasons why HydraFacial treatment is gaining more popularity in the ever-evolving world of skincare that includes everything from LED light therapy and skin boosters to laser therapy and microneedling.
It delivers effective and deeper skin cleansing in a short time
HydraFacial treatment can help even out skin tone
It unclog pores and enhances skin's smoothness
It works on all skin types
The non invasive treatment has minimal to no side effects
It can help brighten the skin and inject a new life to your dull skin
It does wonders in moisturizing the skin
It can help reduce dark spots, wrinkles, and signs of aging
It boosts skin elasticity by accelerating collagen production
The popularity of HydraFacial has skyrocketed in Dubai and Abu Dhabi. HydraFacial treatment can give your skin a more youthful appearance by stimulating collagen synthesis and delivering maximal oxygen and essential vitamins deeper into the skin's surface.
Is HydraFacial Safe for All Skin Types?
All skin types can benefit from the HydraFacial treatment. HydraFacial is safe for even the most delicate skin types. The reason for this is that the medical esthetician may tailor the procedure to your skin's particular needs by selecting the appropriate serums and ingredients.
HydraFacial treatment is gentle and effective for all skin types and conditions, including those with uneven skin tone, oily skin, enlarged pores, and other specific skin concerns.
Are There Any Side Effects of Hydrafacial Treatment?
There aren't any complicated chemicals used in a HydraFacial, making the procedure quite straightforward. It's doubtful that you'll have any problems with the HydraFacial procedure, dependent on the important factor that you get it from a reputable clinic.
However, depending on your specific situation, you can experience a few undesirable side effects. Active rash, somewhat unpleasant pressure on the face, acne (especially in those with sensitive skin), and allergic reactions are some examples. However, professionals will first assess your skin type in order to personalize the therapy elements.
How Often Should You Get A Hydrafacial Treatment In Dubai?
Many people of all ages seek out this effective procedure in the days leading up to important social events like birthdays, anniversaries, weddings and family reunions in order to considerably enhance and transform their skin's appearance. After all, the treatment is effective for all skin type and can help achieve rejuvenated skin and immediate results.
An individual session of the HydraFacial can be beneficial, but for optimal results, it is recommended that you receive a treatment every four to six weeks. Acne, wrinkles, fine lines, hyperpigmentation, clogged pores, dead skin cells, sun damage, brown spots, damaged skin, and uneven skin tone are just some of the issues that can be improved with regular HydraFacial sessions. In order to maintain your finest appearance and stimulate collagen production, it is important to get regular treatments.
Dedicated professionals at The Elixir Clinic will work with you to create a personalized treatment plan. Although we believe that regular HydraFacial treatments are necessary for maximum benefits, we recognize that not all of our clients can have HydraFacial session once a month. Therefore, you should talk to our professional about how often you should undergo HydraFacial treatments.
Schedule Your Hydrafacial In Dubai and Abu Dhabi at The Elixir Clinic
One of the best candidates for a HydraFacial is someone whose skin has already begun to show indications of damage and ageing. Damage from free radicals, pollution, and ultraviolet light can all add up over time. Thankfully, you can reverse the effects of time and get a glowing complexion with the assistance of HydraFacials.
A hydrafacial is more than simply a regular facial. As such, it provides you with the best skincare options available and answers the majority of your questions about your skin. If you want excellent skin that lasts, you can rely on HydraFacial treatment.
If you would like to schedule a personal consultation with one of our experienced medical professionals at The Elixir Clinic, please fill out the form. We also welcome appointments over the phone, which can be set up by calling +971 4 338 8026 (Dubai), +971 2 491 6500 (Abu Dhabi), and +971 3 735 6655 (Al-Ain).